Company Profile
Waterfront Trading is engaged in the export of agricultural products sourced in Myanmar. Waterfront Trading has both foreign and Myanmar results-oriented staff who focus on a high level of service, efficiency and customer responsiveness. We cooperate with the best local firms to source the highest quality products. We closely supervise the process throughout to ensure timely and hassle-free delivery.
We pride ourselves on understanding the markets and offering real commodities at real prices to customer's specific requirements.
Corporate Experience
Our trading experience includes areas in Asia, Western Europe, Eastern Europe, Africa and throughout the Middle East. We leverage our extensive relationships built over many years of experience to source quality products. We have the contacts and resources to find what you are looking for at competitive prices. Our customers have found our extensive knowledge regarding a wide variety of products, invaluable. Our team of international trade associates represents an extensive supply network, with quick access to sources that allow us to get from "docs to docks" quickly. Our principals have many years of experience in sales, management, sourcing and shipping throughout the world.
Trade & Market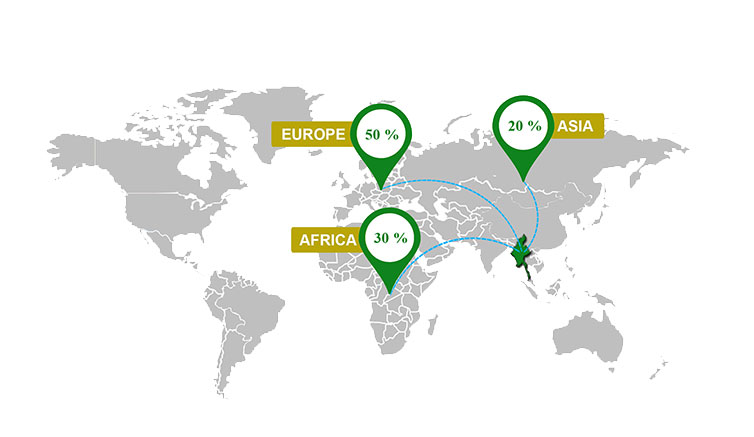 | Main Markets | Total Revenue (%) |
| --- | --- |
| Europe | 50% |
| Africa | 30% |
| Asia | 20% |